"Life is a terminal disease," I quipped.  The rest of the language of the quote was a bit "blue", so I ended the quote there and my clients chuckled.
We were seated at my client's kitchen table, steaming mugs of tea by our elbows.
"I wish I could take credit for that one, folks," I said. "But it was John Cleese who said it.  Now… let's look at page two to make sure the beneficiary information is correct."
It's a typical weekday and I am seated in the home of one of my favorite clients – a young professional couple with two very active twin toddler aged girls zooming around us on the floor – crawling and unsteadily walking about – as we discuss the terminal illness called life… and the need for life insurance.
I'm delighted with this conversation because the couple gets "it".  Both the wife and the husband don't hesitate to ask specific questions, and I notice they constantly look to one another to see what information might be needed, or is being left out.
Their beautiful, chubby, babbling girls are oblivious to the content of our conversation.  One has found my key ring that fell to the floor and holds it up, merrily.
"Thank you," I say, taking the keys from her little hand.  "And thank you," I nod to the couple.  We had just finalized their two $500K term life policies.
We shake hands as I rise from my seat to take my leave but the toddler girls demand hugs… so they hug my legs, one seated on each foot, arms wrapped around each leg.
I feel like a giant, wearing toddlers for slippers and we three adults laugh at the sight.
I leave my clients with a smile and a wave, feeling like I always do after such a meeting – not thinking about the commission I've just made, or where my next appointment will be, but taking a moment to feel really really good that there is now another family that won't have to make even tougher decisions than a person should when "The Worst Thing" happens.
****
"Time marches on… and usually it marches right across your face." – Dolly Parton
"The Worst Thing" happened to my family in my late teens as a Sophmore in College and my brother was completing his last year in Medical School.
We were a family of medicine and education – my father was a Professor of Food Science and Nutrition at North Carolina Central University, my mother was a Dietary Supervisor at North Carolina Memorial (now UNC Hospitals) and my brother was well on his way to earning his MD as a General Practitioner.  I was the anamoly – I was in school as an Illustration and Design major and enjoying being the outlier of a family who seemed to enjoy wearing labcoats and discussing chemical compounds.
We were a solidly middle class family living in the outskirts of North Carolina's famous Research Triangle.
The Ramseys were a house divided – Dad was a staunch Republican, Mom a solid Democrat, my older brother and myself non-committal.  During the March madness of basketball season, however, we were a house united as we all cheered on the Tarheels until hoarse.
Weekdays for my parents with two kids away at school was work and some socializing, then Sunday Church and various civic duties.
We would have been the profile of very typical Southern American family.  Life was just… normal.
Then in March 1992 The Worst Thing (it's always capitalized as I recall it in my head) happened.  I was supposed to be heading off to Florida for Spring break but instead got an urgent call to fly to Raleigh from Atlanta and join our family at the hospital.
My father had collapsed in the kitchen.  He was 53 years young.
There is always a blur of activity when critical things happen and in heightened emotional states, usually people react much more differently than you would expect.  But even during that stressful time, there are urgent needs that can't wait for someone to "process" what is happening or even have the luxury to think clearly.
There are bills to pay and doctors to talk to and family to reach out to and directives to sign.  There are social security notifications and bank notifications and freezes on accounts.
Imagine, then, the heightened stress of one parent – our mother-  trying to make potentially long lasting decisions on behalf of our father, for the good of an entire family.  Add to that stress the uncertainty of not knowing if my father did or did not have an insurance policy.  That he did not have a medical directive.  That my mother did not have Power of Attorney.  Factor in the stress of my father not having a Will and Testament and the time and expense of probate court.  Now add up the math of supporting an entire household on one salary plus college and med school tuition.
This is a pyramid of hurt for anyone to deal with and my brother and I had to watch our mother, who is the very definition of strength and grace under fire, crumble as she tried to find answers quickly enough to meet everyone's needs.
***
"Ah… Look who knows so much?  Turns out he is MOSTLY dead."  – The Princess Bride
This is the sad start of an actually great story and I'll hurry along to the good part, the best part.
We had one saving grace in the middle of all of the crazy.  A dedicated insurance agent who actually knew our family and was friends with my father where he worked.
This gentleman contacted my mother on Day 3 of The Worst Thing – after he heard the news that my father was declared brain dead – and shared with my mother that he had sold Dad a term life policy a few years prior.
My Mother then wept as he met with her, handed her a check, and gently shared the news that insurance policies pay immediately to the designated beneficiary and are not subject to probate court.
It's now many years later from that point in time and I find it ironic and also strangely satisfying that here I am now, a dedicated agent for The Rhoads Group, urging families daily to think about The Worst Thing.
Many people avoid talking about Life Insurance because of the very meaning of it and I have empathy for that… Life Insurance can be a pretty heavy subject.  You are forced to imagine that you are no longer here.  I understand that very feeling. It's not a fun thing to imagine.
But thinking about it can also be an uplifting, life-affirming subject.   I try to remind our clients that the best part about Life Insurance is that you ultimately get to decide – while you are still here and while you can still express yourself to your loved ones – how you want your story to end.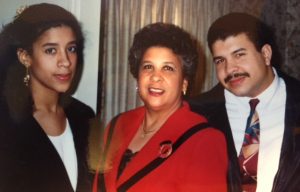 ***
Post Script – Regarding our story – I know my father would be immensely satisfied and proud of how we all continued our lives, with his help and gift of a life insurance policy.
Keith finished Medical School and is a successful Medical Director for several medical clinics  in Southern Louisiana.  My mother remarried and is loving and living life with her husband and many grandkids and church and volunteer activities.
And I…  Still paint and draw, and still scream myself hoarse during basketball season for the 'Heels to take it all, alongside my husband as he cheekily roots for everyone else!
But my days are devoted to sharing information with my clients to help them prepare for life before and after a possible "Worst Day".
So if you have no idea where you and your family stand with Life Insurance – this is my invitation to you.
Contact myself or another top notch Insurance Professional at The Rhoads Group to discuss your concerns.
We all want your story to end with "happily ever after"…and we'd love to help you do it!
Thanks for reading and let's all be safe out there!
-Erica Ramsey