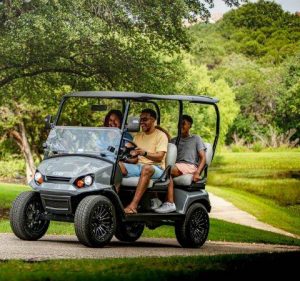 Golf carts have become a household staple for much of suburban America—especially here in metro-Atlanta. In fact, the hallmark of Peachtree City is its 100-mile network of paths traveled by golf carts and the legalization of golf carts on public streets in 1974.
Unlike most domestic manufacturers, the global pandemic saw an uptick in golf cart sales with over 120,000 new units sold. A billion-dollar industry, the golf cart market is projected to grow by another 10% by 2027.[i]
With more and more carts on our streets and in our neighborhoods, it's critical for all golf cart owners to be educated about suburbia's favorite toy. Here are three things all golf cart owners should know before hitting the pavement:
Most standard homeowners' policies will provide liability coverage for the use of an owned golfcart. But there are restrictions. Your liability-only coverage exists under three conditions:

You're using the golf cart to service your property (like going to get the mail)
You're using the golf cart to play golf at a golfing facility
If you live in a community with bylaws that specifically permit golf cart use in its streets
Golf cart laws exist and vary by state. Be aware of the state and local guidelines. For example, in the state of Georgia, it's illegal for anyone under the age of fifteen to operate a golf cart on their own. A child aged twelve and older can legally drive a golf cart as long as they're accompanied by a licensed driver. Your HOA or community bylaws may have their own set of regulations.
Golf cart insurance exists and it's affordable. You may not know that golf cart policies exist to cover exposure on what is legally considered a low-speed vehicle. Most golf cart policies only cost a few hundred dollars a year. Well worth the peace-of-mind. Not only will a golf cart policy cover damage caused to someone else's property (liability coverage) by your golf cart, but can also extend that coverage to the cart itself.
If you're curious what it would cost to insurance your golf cart, or have questions about your existing  policy's cart coverage, shoot me a message. Our team is happy to provide you with a free, no obligation quote today.
[i] Gminsights.com