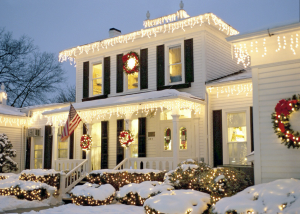 They say sharing is caring, right? What about caring when you share a home—your home?
Holiday home-sharing is not only the future, it's the present. Recent studies show that people are booking more time away from their homes than they did even before the pandemic![i] It only makes sense that homeowners would capitalize on the travel fever that's hit our nation. I mean, why not make a little money by renting out your place while you're off visiting the in-laws? Your home is just sitting there! Your home is . . . home alone!
But there are a few things that need to be thought through before you turn your biggest asset into a bed and breakfast.
First, make sure you talk with your insurance agent. Wait. I mean, first talk with your spouse. This is not something that falls in the "better to ask for forgiveness" category. Take it from me!
Once you get spousal approval, then talk with your agent. Here are a few things to ask:
If something happens to my home while it's being rented by someone else, will my homeowner's policy offer coverage? (Although companies like Airbnb offer coverage, it's likely there are gaps.)
If I file a claim, is it possible I would not get renewed?
Could a claim impact my rates?
And hey, while you're in the sharing spirit, why not share your car? Companies like Turo make it easy. But the same rules apply—talk to your insurance agent first (or second!).
Unlike the McCallisters in the Christmas classic, you can be prepared for what happens to your home when it's alone. Reach out to your agent—that's why we're here!
[i] https://www.cnbc.com/2021/09/10/people-are-booking-christmas-vacations-earlier-than-ever-before.html