"We are now starting priority boarding for Delta flight 2975 to Atlanta". I grab my bag and head towards the gate. Apparently, one of the perks of being an AMEX member is priority boarding. I didn't think this was a big deal but turns out this is really awesome. I head down the tunnel, onto the plane, and towards seat 27F. Not rushed at all. Very nice! Woody and I are returning from a 3 night trip to Seattle hosted by Safeco. The trip was short but sweet. We toured the city on a helicopter, enjoyed a Falcons victory over the Seahawks, and drank a lot of great coffee.
We're now in the air about 1/4 of the way home. LOL. I'm not a fast writer. Sometimes it takes me 5 minutes just to compose a simple text message. I type. Then back space. Type. Then back space. It's ridiculous really. One of the things I HATE about iMessage are those little bubbles that show you I'm typing. "Just. Hit. Send." I know that's what you are thinking.
The flight attendants are making their way down the aisle now. I order a water, a coffee and a Kind Bar. Bee-Tee-Dub, Thank you Delta for stepping up your granola bar game! I chug the water in two gulps. I want to ask the flight attendant for another but I don't. Instead, I open the kind bar and go to work on that. It's not the normal kind bar I'm used to, it's the soft granola Kind Bar. Very tasty. I add 3 creams to my coffee, stir, and take a sip. Starbucks, of course. Now I'm ready. I reach down and get my Bang & Olufsen headphones out of my bag, then fire up the YouTube app.
Two things I've learned about enhancing the in-flight experience is 1) always download plenty of audio/video content the night before the flight and 2) always always always bring over the ear headphones (plus chargers 😉
I've downloaded a few things to choose from… I've got Rogue One, Stranger Things, and several episodes of Casey Neistat. I'm definitely going to finish Rogue One before the end of the flight, but I can tell my mind isn't ready for that yet so I go with a Casey VLOG.  I just can't believe how cool this guy is. Funny, athletic, artistic, and HUMBLE. Right now I'm watching him vlog while riding his electric skate board thru New York City traffic. Very impressive. Very dangerous. If you haven't seen his VLOG, stop reading this now and Check it out. Amazing. Side note: I want a Boosted Board now. Adding that to the Christmas list for sure.
This flight is going (pretty) well. Not too bumpy (unlike Sunday's chopper flight).  The flight attendants are nice. Tons of Falcons fans. So many falcons fans. #riseup My only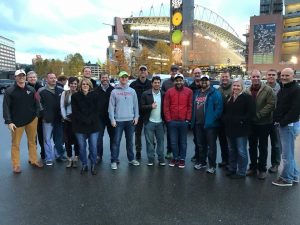 complaint is the temp. It's not hot but it's definitely too warm for my taste. I could take off my jacket but I'd have to get out in the aisle to do that. I'm on the window and I'd have to ask 2 people to get up. Too much of a hassle. The aisle is actually my preferred seat for this reason but since this was a flight with some Mountain views, I opted for the window. The view of Mt Rainier on the flight into Seattle was worth the price of the ticket (paid for by Safeco; thank you Safeco). This flight though, no views. Too rainy. Should've took the aisle. "Excuse me. I have to run to the bathroom". I don't really but that's my excuse to get up so I can take this jacket off! Super hot now. The 2 really nice folks (trapping me) in the row get up and let me out. I head down the aisle, take off the jacket, kill some time, and then turn right back around to return to my seat. Much better.
"How long have you been running?" The lady sitting beside me asks. I look at her funny because I'm trying to figure out how she knew I was a runner. "Um, about a year I guess." I replied. "I need to start exercising. I just haven't been able to get started" she says. I realize then she must've overheard me talking about running in the terminal. Not sure though. Kinda weird. "Get started but start small with something you can build on and let the compound effect happen". I replied. I immediately thought about how cliche that sounded. Not very inspiring. "I also changed my (liquid) diet which made it ALOT easier to get up and run." She laughed.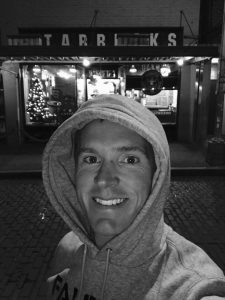 For me, that was the bigger piece. I didn't go into the details with her but NOT drinking was a huge change for me. Early last year I read a few self-help books that really changed my way of thinking. My favorite was a Darren Hardy book called The Compound Effect. Just get started. Start small. Win daily. Improve a little bit. Repeat. That's the basic lesson. On New Years Eve, I decided I was going to go a full month without alcohol (or sweets). It wasn't easy; January was kinda rough.
On February 1, I reintroduced sweets (hello Dutch monkey donuts) into my diet but didn't feel the need/want to drink so I went another few weeks. Near the end of February, I attended an insurance conference in Athens. After the day program, we headed out to tour creature comforts brewery. On the way to the Brewery, I started to think about whether or not I would imbibe. I was torn. Would I break the streak? Or keep going? When we arrived, I decided I didn't want to "make a scene" by being the only agent not drinking. So I grabbed a beer. Half a beer actually because I think there is some law that says breweries have to serve it that way. I took one sip and immediately regretted it. I took a couple more sips but wasn't feeling it. I put the glass down. I didn't drink another the rest of the night. I haven't had a drink since. Over the holiday, if you're looking for a good read, pick up The Compound Effect. I think you'll enjoy it. It's a quick read and who knows, maybe it will be the fuel you need for your big New Years resolution! The one you're actually going to keep!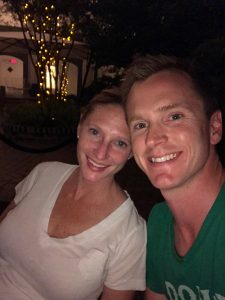 Thank you for reading my post! Please forgive my grammar and typos as I did a quick, not so thorough, proofread while descending on Atlanta. FYI: It took me just under 4 hours to write this. Not too bad right?! Better than last time. One small step in the right direction!
To learn more about me, check out my bio at www.Rhoads-Group.com/Clayton
HAPPY THANKSGIVING FRIENDS!!