Opening Day has always been one of my favorite days of the year. Even today at 34 years old it feels like a special day. Growing up, I was obsessed with baseball. I still vividly remember going to games in Fulton County Stadium and dreaming about playing in the big leagues one day.
My brother says I would wake him up literally talking about the game in my sleep. My sister watched me throw balls in the air to myself for hours. My parents took me to countless games.
Even though I was a Braves die-hard, my favorite player was Ken Griffey Jr…which by the way was the best outfield glove ever (Griffey Rawlings Trapeze I think it was called). Colin's was Frank Thomas even though he was a Cubs fan!
Unfortunately, my passion for the game slowly faded away sometime between high school ball and college ball. I got distracted. I got lazy. I lost focus. Looking back, I'm SUPER regretful that I didn't give it my best effort in Dahlonega. The lesson that I took away from that mistake has been huge for me though. That lesson is really wrapped up in the combination of a few things.
1) figure out what you want (and WHY you want it)
2) surround yourself with people who have similar goals AND will ultimately encourage you to achieve yours.
3) work a little every day to get closer to that goal.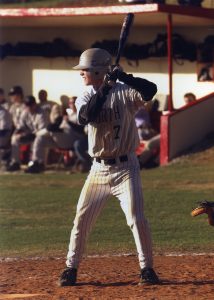 Today I'm surrounded by amazing people that push me, support me, but ultimately lift me up to be so much better than I would be on my own. I'm so thankful for these people and encourage anybody out there who wants to do more in life to find your WHY and then find YOUR people.
GO BRAVES!
#TBT to what I think is our 1st game at Gainesville High my junior year (2000). Without a doubt, my junior year was my favorite year in high school. So many great memories from that year. 
??
⚾
– Clayton