First a global pandemic, now Russia's invasion of Ukraine. Our wallets can't seem to catch a break. With national gas prices averaging $4.27 per gallon, you may be wondering if it's time to go electric. After all, nearly every major auto manufacturer is making or improving existing plans to produce top-of-the-line gas-less or hybrid vehicles—even trucks and larger SUVs.
But with rising gas prices comes a commensurate increase in the price of electricity. Before you head out to order a Tesla of your own, take a look at the price comparison charts, courtesy of CNBC.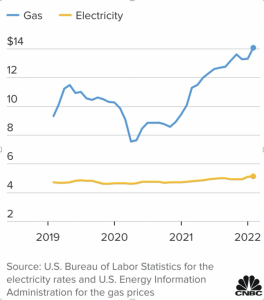 Unsurprisingly, electric cars have consistently cost less to fuel over the course of the last three years. In fact, Jeffries analyst David Kelley recently calculated that the total lifetime savings of an electric car versus a combustible vehicle is $4,700. That number is likely to increase as the cost of batteries becomes more competitive with the development of more electric cars.
As an electric car owner myself, I did my own math. If you drive over 15,000 miles annually, a combustion vehicle costs around 50% more than an EV when you factor in depreciation, fuel, maintenance, and insurance. If you qualify for the $7,500 tax credit, it's a slam dunk
Yes, oil prices will decrease in time, but the cost of electric cars is projected to fall as well.
If you're feeling the pinch at the pump, consider an electric vehicle. They may cost marginally more to insure, but the overall costs to fuel and operate are still much lower.